Christmas 2007: 1. In nomine Patris... The Past
It was again a stingy market for jazz holiday fare. Sad, as there exist many artists we have yet to hear from. In the face of such fiscal and corporate adversity, this intrepid writer has nevertheless found several notable releases and added some old ones as reminders for consideration for the 2007 holidays.
In keeping with the theme, this first article of the trinity this year devotes itself to the older classical forms as opposed to jazz. The holiday music tent needs expansion and this article aims to do such with perhaps a couple of surprising considerations.
Les Boréades de Montréal
Noël: Noëls français du XVIIIe siècle aux instuments (French noels of the 18th Century on Instruments)
ATMA Records
2006
Noël is a most festive period collection from the 1700s, performed on period instruments. The music smells of the temperately uneven smoky interior of an ancient stone building, heated by fireplace in late night. The sonics of the playing of the Canadian quartet Les Boréades de Montréal sound as if the performance room is cavernous, the percussion sounding deep behind, with violin and cello in front and keyboards in the middle.
There is nothing familiar about this music. The listener looking for other French carols like "O Holy Night need look elsewhere. This is haunting music which shakes off the cold gradually with every listen. The instrumentation includes, in modern terms, a flute, violin, cello, and harpsichord. The period is nominally Baroque but sounds from the near edge of the Renaissance. Daquin's "Noel No. 2: Nous Ditte, Marie smacks of Biber crossed with a Vivaldi slow movement.
In a word, this music sounds at once as delicate as a silk doily and as rugged a stone fire hearth. The slow pieces evoke contemplation and the fast pieces, dance. The former are best represented by Daquin's "Noel No. 3: Une Bergère Jolie and the latter by Dandrieu's "Nous Sommes En Voie. Drink deep of this rarified fare as it is like fine French wine.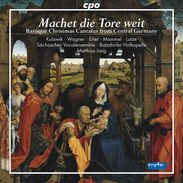 Sachsisches Vocalensemble, batdorfer Hofkapelle, Matthias Jung
Machete die Tore weit - Baroque Christmas Cantatas from Central Germany
CPO Records
2007
Is the listener tired of Bach's Weihnachtsoratorium or Magnificat? Does such a gentle hearer still desire Central German Baroque. Then Machete Die Tore weit - Baroque Christmas Cantatas From Central Germany fits the bill perfectly. This is collection of six lengthy cantatas by contemporaries of Bach, Handel and Scarlatti for whom the same fame was not realized.
Perhaps the greatest thing to endorese Schelle's "Machet Die Tore Weit or Jacobi's "Also Hat Gott Die Welt Geliebet is that while densely German it does not smack of Bach, whose long shadow stretched over all of these minor composers. The music is certainly not inferior to Bach but it is different and not only because of its unfamiliarity.
The Sachsisches Vocalensemble and Batdorfer Hofkapelle under the direction of Matthias Jung turns in a barnburning performance of these religious pieces. Period instrumentation again being the norm, more modern recording techniques have removed the brittle patina of such instruments, leaving them a warm and shimmering tone that is both welcoming and in praise.
Luciano Pavarotti, National Philharmonic Orchestra, Kurt Herbert Adler, London voices, Terry Edwards
O Holy Night
London Records
1976
This is a sentimental pick. We of the late Baby-Boomer Generation had only one truly great operatic tenor (apologies to Placido Domingo), the late Luciano Pavarotti (1935 - 2007) in the same way we had only one great pianist in Vladimir Horowitz (1903 - 1989).
O Holy Night is not a great holiday disc, but it hosts several truly great performances by the Modenan master. Right out of the chute, Pavarotti belts a respectable title take in both English and French. The next highlights are the contemporaries Saverio Mercadante (1795 - 1890), "Qual Giglio Candido and Franz Schubert (1797 - 1828), the famous "Ave Maria, this latter a real showstopper.
The disc's spiritual center is taken without question by Pietro Yon's "Gesú Bambino and the nine-plus minutes of Berlioz's "Sanctus from his Requiem. This is orchestral, ensemble and solo singing so rarified that it is almost a shame Pavarotti was singing for a commercial holiday collection. As beautiful as this "Sanctus is, I direct the listener to Pavarotti's performance with James Levine and the Berlin Philharmonic for a superior one. Pavarotti closes with a rousing "Adeste Fideles that reminds us this is a Christmas disc. It is still a treat after 30 years. We will be long for the like of the master again.

Tracks and Personnel
Noël: Noëls français du XVIIIe siècle aux instuments (French noels of the 18th Century on Instruments)
Shop for jazz:
comments powered by

Disqus