HighNote/Savant Records
If you turn the radio to a jazz station, chances are you'll hear a HighNote/Savant artist. Radio is one of the label's biggest marketing strategies. "You'll never make a hit single without getting radio airplay. You're not going to spend 15, 16, 18 dollars in a record store just looking at it. You have to have some exposure to it. And my own feeling is that seeing a little thumbnail image in a magazine isn't enough motivation. So my stress in getting the product to people is to stress the radio airplay."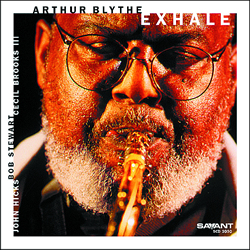 In addition to the major chart radio stations, the company solicits small town stations. "I feel these small stations are dealing with a constituency that does not casually buy a jazz record. They are listening to a small jazz show on a Sunday night, because they are enamored with the art. If I can put that arrow in their heart getting through to that character that's broadcasting to them on that night they've purposely tuned in - I'm connecting."
Highnote/Savant artists may get honorable titles and glossy awards, but the true accomplishment for Fields is the longevity his artists have accomplished. An example is saxophonist Arthur Blythe who released his fourth album on Savant,
Exhale
, in June. Blythe became disenchanted with the American jazz scene in the '80s so he left for Europe. After Fields recorded him he started playing New York again, and resurrecting the recognition he once had.
"If you do something, you want to do it completely, to the best of your ability - see it from beginning to the end. It is satisfying," Fields said. "It's very hard to just turn a screw on an automobile line and feel like you've had any real contribution. Here if there is a mission it's the sense of self-satisfaction. And also knowing that the stuff we do here we do the best we can, and the music is good."
"The thing that won't destroy what we're doing is the people's need for the art and the music. That's the thing that buoys me. It's far from a dying art."