Conversation with Avishai Cohen
" usually what happens with me if I?m affected by something, by anyone, I take it and I absorb it and it goes to my own world. "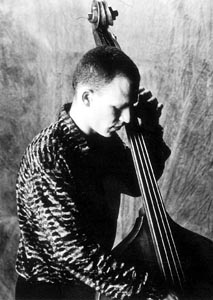 Avishai Cohen has already had a stellar musical career. Playing on bass, electric bass, and piano, Cohen has worked with Chick Corea, recorded solo, and founded his own rock group. He has proven himself both as instrumentalist and composer. With his latest release, Lyla Cohen has taken on the next challenge of label owner by founding Razdaz Records.
Though Razdaz Record's only release to date is Cohen's recording, Cohen plans to expand the label in the future. With no specific plans, Cohen hopes the label will become home to a large diversity of music. Diversity is Cohen's modus operandi, as can be heard not only the current album, but also on his previous releases.
Cohen and I spoke a short while ago about his plans, politics, the definition of jazz, and, of course, his current work.
All About Jazz: Why did you start the new label?
Avishai Cohen: The label is something that I've wanted to do for a few years because I think artists should be more independent and not rely on record companies that don't always see or understand exactly where the artists is coming from. Even though I've had a nice relationship with Stretch Records, it's just that for me and my associations with so many great artists here in New York and everything I'd like to have not only the ability to record myself but in the future to record talented musicians that I believe in and just go anywhere any where I want to go, not to be confined to one style of music or my musical horizons are so broad and I'm involved in so many things that I've found the best way for me is to have my own label. So that is mainly why I did it.
AAJ: This release is the perfect launch for that kind of label. That is what intrigued me about the album, it's incredibly eclectic.
AC: Exactly.
AAJ: And not just eclectic from one track to the next, but within each piece as well. There's a lot going on.
AC: Exactly.
AAJ: I can see the connection between this music and wanting a label like you described.
AC: For an eclectic artist like me I need that and I think this record is saying pretty much that the label can go anywhere. I don't want to say, 'This is a hip-hop label, or this is a jazz label, this is a rock label' This label could go anywhere.
AAJ: So you are planning on brining in a lot of different styles of musicians?
AC: I imagine yeah. At this point I'm really having my own home and then once I start rolling and things are more in place and it gets stronger, then anything could happen.
AAJ: There are a few pieces that I wanted to ask specifically about. The opening piece, Ascension. There's a strong West African rhythmic base.
AC: Yeah, sure.
AAJ: I'm curious, does it have any relation to the Coltrane piece?
AC: Not really. I didn't think of that at all! I just thought of the name because of what it does. It's ascending this thing. It's just a very passionate high energy thing that launches the record. So I thought of that name. And I think it sounds nice, the sound of the name. It's a great word.
AAJ: On the piece, the African background is that something you've used before?
AC: Well, not really. I mean, it's something I have in me. I love that type of West African kind of trance like feeling in music in general and I know that in the different connotations that I've heard it, or been exposed to it, I think it got inside of me and entered my compositional world. I was in Japan when I came up with the basic groove on the keyboards I was playing it since in my hotel room and it was a percussive type of almost marimba like sound I was using and it kind of created that atmosphere. The whole tune came from that.
AAJ: I'm really interested in the incorporation of African ideas of multiple percussive voices, and basing the development of a piece on percussive development instead of melodic development.
AC: Right.
AAJ: So I was very intrigued by this piece. I know there are people doing those kind of things, but I don't think it has happened quite as much as it could.
AC: Yeah, it's a good thing.
AAJ: How did you choose the piece "The Watcher"?
AC: I've been a fan of Dre for the last few years. I love good hip-hop. I don't know, his music just took me by storm.
AAJ: There's a lot of strength in his music.
AC: Oh, totally. I'm just in love with his grooves. I think he's a genius with grooves. It just effected me in such a way. I come from funk and I love that seventies stuff, so he's got'it's almost like he's the next take on funk but in this environment right now he's got a real cutting edge thing going.
AAJ: I was also very interested in your approach to the piece as well as "Handsonit". The way you use sampling, the very different sonic feel you create from most jazz.
AC: Sure. Well, I've been associated with this drummer'Mark Guiliana'who introduced me to this instrument, Handsonic, with a 'c' on the end. And it's like a drum pad thing where you play the pads.
AAJ: Yeah, I've used it.
Shop for jazz:
comments powered by

Disqus