"Round Midnight/Skylark" by Joan Cartwright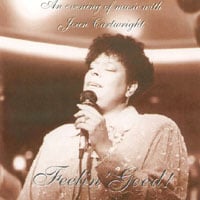 From
Feelin' Good (Tireno Records) by Joan Cartwright
About
Joan Cartwright is an explosive jazz and blues singer, composer and lecturer. She's performed in the U.S. for 25 years and in Europe since 1990. She toured eight European countries, Africa and Mexico. Joan sings her own songs and those of Ellington, Miles Davis, Thelonious Monk, Cole Porter, Gershwin, Jobim and the standard composers.
This CD was recorded in Catania, Sicily, after Joan toured with pianist and composer Giovanni Mazzarino in Switzerland and Italy. The CD is dedicated to one of Joan's mentors, Joe Lee Wilson, who recorded "Feelin' Good" by Santiago Gonzalez III, in the '70s.
Broken link? Report it to us

This track appears by permission of contributing artist and/or record company.
It is for personal use only; no other rights are granted or implied.


Shop for jazz:
comments powered by

Disqus